ANT.TILE has a variety of creative patterns for you, and all is good to use on wall, backsplash, and floors. Today we are showing you our popular design – Rectangle pattern, we have it with floor designs, and glad to see that it makes amazing look and stunning effect.
Inspired by the rectangle in life, we create this tile rendering in 3 color series. Keep reading and get inspiration for your next project.
1. Stylish And Modern
Tile shown: Classic Series – Rectangle TR2-CL-RT
If you are a fashion stylist and own a fashion shop, you will not let the space go boring. Black, gray and white, this rectangle pattern build a neutral hue with eye-catching flooring. You must have some simple furniture for it, including cozy chair, decorative metallic hanger, etc. That will enhance your style and make your shop more inviting!
2. Delicate And Gorgeous
Tile shown: Blue Mountain – Rectangle TR2-BLM-RT
Don't be afraid that this rectangle pattern works too much and overpower, this repetive geometric pattern would make your floor more delicate and gorgeous. Wherever you use it, your interior design will be filled with characters and depth.  
3. To Be Natural
Tile shown: Chino Hill – Rectangle TR2-CH-RT
The trendy interior decoration is related with traditional and modern elements. Look at the commercial store above, which takes the wood as the main building material, bringing you a close touch of nature. With our Chino Hill rectangle patterns used in flooring, it make a statement to the whole space.
Featured Product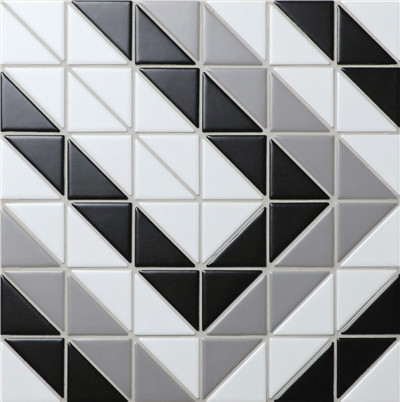 1/ TR2-CL-RT (black, gray, white)
2/ TR2-BLM-RT (lattice, uncertain gray, gale force)
3/ TR2-CH-RT (antique white, cornwall slate, ripe olive)
If you have get good ideas from this rectangle pattern and want to have a sample from us, welcome to contact us now. Ant.Tile is keeping going to create more new design geometric tiles for all architects, interior designers and home decorators, pay more attention to our page: https://anttile.com