Hot summer always calls up in our mind swimming. It would be absolutely fun to have one swim pool in your own house, especially for those who do not feel comfortable when swimming in public pools. Pool is a good place for relaxation and your worries and stress can be washed away after a long-day's work. Well, for sure, everyone of us want to have a great pool design before installation. Today we are sharing several things need to consider when pool design, read on and you will find good ideas for yourself.
1. Make A Budget
Firstly make a budget, it is important for that will decide how large your swimming pool will be, including the construction and extra expense. If you have no ideas, then ask a contractor to work it for you, telling what pool design you want, what budget you have.
Featured product: 2" zc baby blue triangle pool tile tr2-sa-p2z
2. Choose The Pool Surface Pattern
There are variety of building materials for swimming pool covering, including porcelain tile, mosaic tiles, glass, stone, concrete, etc. Different materials will create different pool types. Choosing stone pavers is natural and prevailing for your pool, while people uncommonly use stone to cover all the pool areas, stone is mostly used for pool decks, pool surround and waterfall areas.
Featured product: 2" blue mixed chevron triangle pool tile tr-sa-cv2
For pool bottoms and walls, people prefer to use blue or green porcelain tile to build a ocean-like space. Porcelain tile is popular due to its durable quality and low-water-absorption rate. Mosaic tiles are also a top use in private pool, for mosaic tile provide wide range of choices in materials, shapes, colors and textures. Homeowner even can customize mosaic art for unique pool look. With small chip size, there are many gaps to make your pool less slippery and be safer for your family.
3. Choose Pool Color
The pool color will make great difference on your pool look as well as pool water color. Blue and green is common to see in pool. Lighter color creates a bright look, while dark color can add depth to pool space, it depends on what you want. I would recommend you to choose a bold blue color if you want something different but not too overpowering. Look at the villa pool below, it is finished with our our federal blue – best pool tile color in 2018, the blue is deep,pure and high-class, the glossy surface looks wonderful under water and lighting, and works perfectly to build a big ocean to your house. The finished look is so striking and modern.
Featured product: 2" federal blue triangle pool tile tr2-sa-p4
4. Choose Pool Shape
Have you already feel tired of traditional rectangle-shape pool? So you can choose the shape you like and fit your budget. Just design it and take your existing landscape and buildings into consideration. In angular area, rectangle pool is a great choice. You may also install a pool with curves to take good use of your areas.
Featured product: 2" blue mixed wheel triangle pool tile tr-sa-wh
5. Do The Right Dimension
The right dimension means right space for your pool. That means, you should firstly consider the available space for your pool construction, which helps to decide the pool design and size, and you don't have to redo pool design and waste materials you bought. If the space is big enough, you can also have pool deck, patio, spa, tub and any structures.
Featured product: 2" zc federa blue triangle pool tile tr2-sa-p4z
6. Add Water Feature
Adding water feature such as waterfall or water wave will make your swim pool more interesting and lively. That is also a good idea if you cannot go out swimming and the sun is too brisk. Coldness can be brought to you through water feature. You can choose a waterfall design to fit your taste and budget. Waving water feature will make the pool dynamic, that can be easily achieved by a pump system, adding beauty to your pool.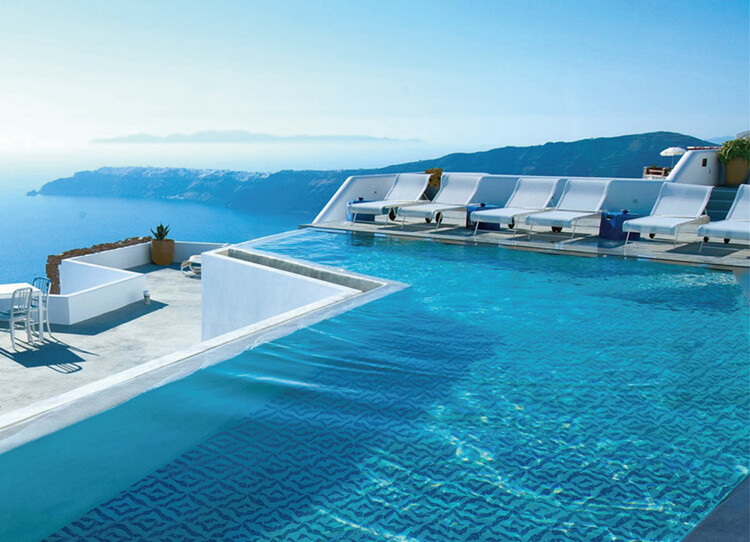 Feature product: 2" blue blended time tunnel triangle pool tile tr-sa-tt
7. Use Lighting
Putting lighting in or around your swimming pool to install a dramatic and romantic atmosphere. There are many pool lighting to choose from: in-ground pool lights, above ground pool, spa lighting and others.
Featured product: 2" zc cornflower blue triangle pool tile tr2-sa-p3z
8. Choose Pool Lounge Chair
When you want to buy some furniture in pool around area, how can you ignore the lounge chair? I know most people can lounging in the sun all day when they have a comfortable chairs, maybe also have some drinks. The lounge chair is not only for rest after swimming, but also a good decoration for pools. The chair comes in wide styles for choice, you can visit your local chair store to choose the one that best suitable for you.
Featured product: 2" alice blue triangle pool tile tr2-sa-p1
9. Build A Nice Landscape
Having some plants and trees to bring nature to your pool with a gorgeous landscape. That's ideal for who have a large backyard, or not, you can buy some potted plants and flowers instead. Look at the fascinating swimming pool below, with lots of greens, you can have a tropical pool.
Featured product: 2" blue mixed blossom triangle pool tile tr-sa-tbl2
10. Safe for Kids
A good-looking pool design would be useless if it is not safe for users especially for children. Children will spend more time in water, if you have children at home, you must check your pool design. You can separate your pool with a padding pool area for kids to avoid danger.
Featured product: 2" blue mixed square triangle pool tile tr-sa-sq
Having your own swimming pool at home would be a really satisfying thing. Your home will be added beauty and values, looking more aesthetic for family and friends. If you are going to start your pool project, try to consider the above 10 things that will give you great ideas. And welcome to comment below if you have more inspirational thoughts. For more swimming pool design inspiration, welcome to see our pool gallery.
Ant.Tile supplies a creative product line of triangle tiles, as well as decorative pool tiles in geometric pattern for sale, feel free to contact us if you are interested in our products.